Thank you to all of the residents of Tavistock who've taken the time to respond to our initial survey.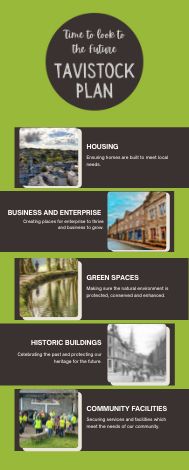 The steering group and volunteers from the community forum did an excellent job reaching out (and delivering 6100 surveys) to the residents of Tavistock over the last month. We had some wonderful help from local businesses, community groups and the local press as well. Thank you, too.
It's been a wonderful experience speaking with and listening to people all over the town discuss what is important about Tavistock's future. These conversations have made clear that people care deeply about Tavistock and its unique qualities as a market town with a rich history, beautiful town centre, independent shops and access to the moor and open countryside. I believe that this identity will be reflected in the vision and aims for the Tavistock Plan.
We're working with Devon Communities Together to produce a report of all of the responses and aim to update this site with details of the report and next meeting as soon as that is complete, hopefully by the first or second week of June.
If you'd like to get involved with the next stage of the Neighbourhood Plan, please let us know [email protected]. We'll be looking for individuals to get involved with research, policy, and help with any further consultation.
Cllr. Ursula Mann, Chairperson, Tavistock Neighbourhood Plan Steering Group